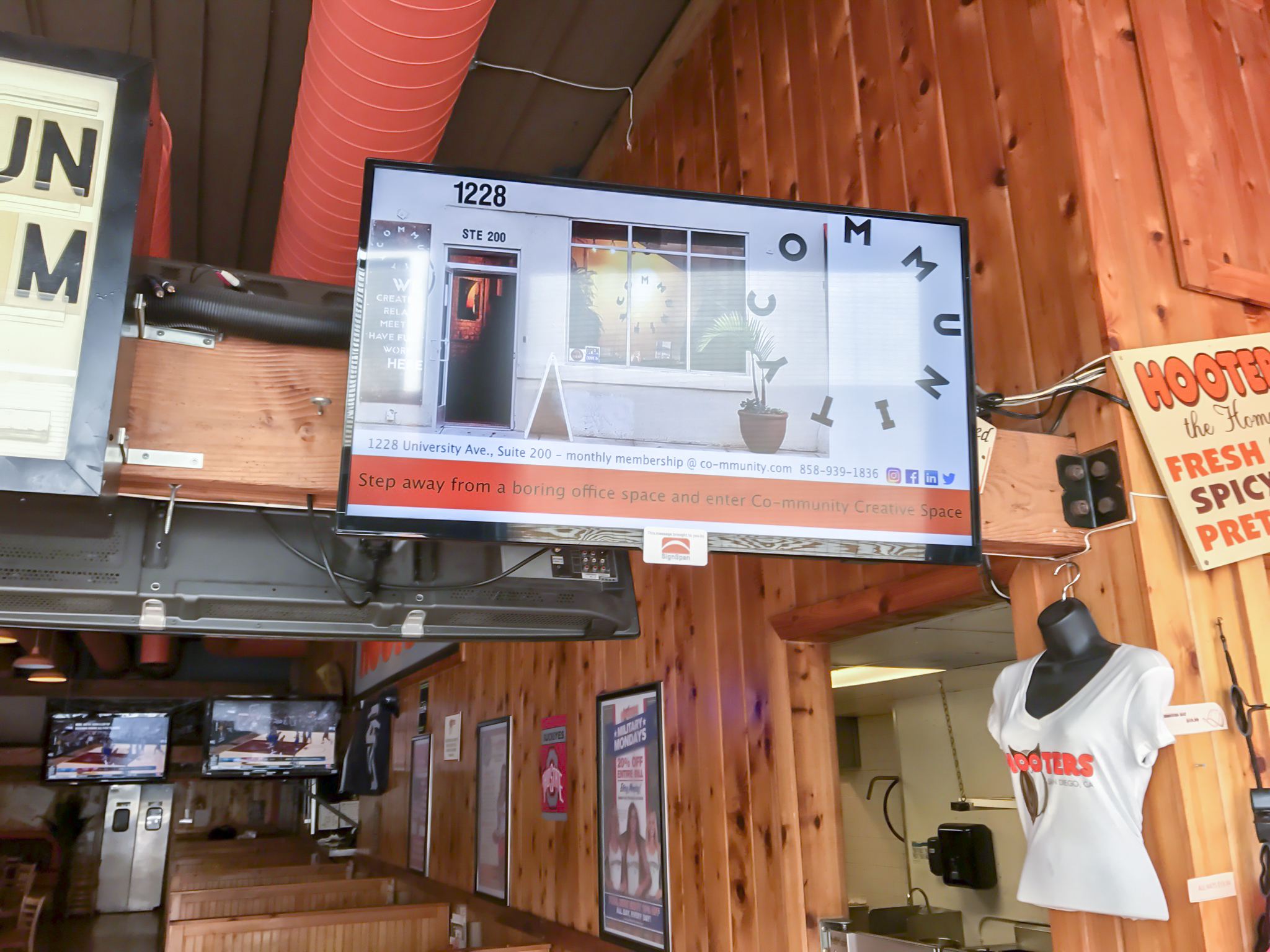 Digital signage can be an incredible way to get your brand and message in front of a wide and diverse audience. In order for those ads to be effective, there are some key factors you must pay attention to.
While this post will specifically speak to ads created for SignSpan, the principles apply to any digital ad you are creating with the exception perhaps of specific size and resolution requirements.
Key Elements
First, your ad should contain some key elements depending on what specific goal you have in mind. If you are simply looking for increasing brand recognition, your logo and some brief information about your business should be sufficient. At the least, your ad should contain your contact information and some kind of positive message.
However, if the goal of your ad is to get customers to take action, and to visit your business location, you need some additional elements.
A Good, Brief Headline: This headline tells the customer what you want them to do. "Join us!" and "Visit us today!" are good examples, but certainly not the only ones.
An Offer: This can be a coupon code, an offer tied to an SMS Short Code, or a simple advertisement. "Kids Eat Free on Tuesdays" is a good example. More on short codes and coupons in a moment.
Images: This is often called the "Hero Photo." This is a photo of your product or service, or an action related to it. This visual is what grabs the viewer's attention.
Business Information: This includes your location, phone number, and any other way you want those who view the ad to reach out to you.
Finding or Taking Great Photos
There are two ways to get photos for your digital ads:
You can obtain royalty free stock photos.
You or a professional can take photos of your products or services or an action that relates to them.
There are several resources for finding great stock photos. One of the simplest is Google image search. How do you know the photos are royalty free? Using Google search tools.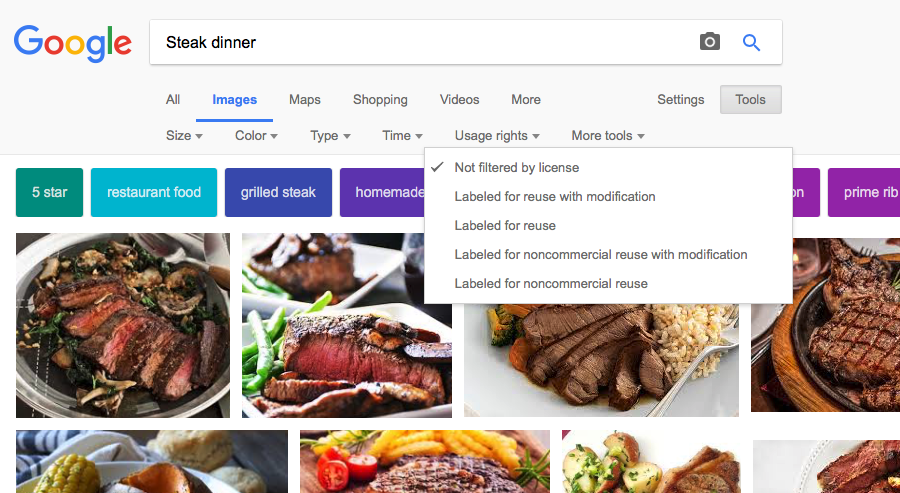 The example above shows searching for photos of a steak dinner in a Google image search. When you click the tools tab, you will see a few drop down menus. Use the one called usage rights. Select "Labeled for reuse" if you simply want to use the photo in your ad without adding a logo or modifying it in any way. Use "Labeled for reuse with modification" if you think you may want to modify the image at all.
This will not show you all the stock photos available by any means. It will simply show ones that are free. There are services that offer stock photos for purchase, some by subscription. Some notable services include:
Flickr
Shutterstock
Pixabay
iStockphoto
Getty Images
Several other services are also available and offer reasonable rates.
You can also take photos yourself or have them taken for you. Smartphones now come with great cameras, and you can purchase light boxes and other tools on Amazon or other sites so that you can create your own great photos. If you are not comfortable with this, have a professional take photos for you.
There are many important aspects of photography, including lighting, background, and subject placement. You can take free community classes that will teach you the essentials. Apple even offers free courses at stores about how to take better photos with your iPhone.
Use caution before taking photos yourself. Photos are often the first thing that draws users to your advertisement. If it is not appealing, it may not matter how well the rest of the ad is crafted.
Dimensions and Resolution
When you create an ad for any platform, it must usually meet certain dimension and resolution requirements. For SignSpan ads the dimensions must be 1920 x 1080 pixels, the resolution of a high-definition television display. The file must also not be larger than 5 MB in size.
Essentially the ad you upload will be a single image. That image will include your photo, text, and the information mentioned above. For most advertising, the size must be exact. If not, the entire ad may not show on the screen due to clipping.
In addition, you must account for a margin around the edge of the image. In the case of SignSpan the recommendation is to leave an empty margin of 60 pixels. You don't want to place any text or images in this section, as it may be clipped on some displays. Not only that, but readers attention is usually not drawn to the sides of an ad anyway. More on that in a moment.
If you have an ad with a file size the size exceeds 5 MB, you may want to try a different compression rate to reduce the file size. Be careful not to use a compression rate that degrades image quality however. If possible, use a lossless compression image file format such as PNG, as opposed to JPEG. If you are unfamiliar with image file formats or how to compress images properly, get some help from someone or research the topic online.
On the other side, don't try to increase the resolution of stock photos you have downloaded from one of the sites mentioned above. Download the high-resolution image, and then reduce the size, not the resolution, when you insert it into your ad.
If this sounds somewhat complex, it can be at first, but once you have created a few ads, it will become easier.
Text Size and Font
It is tempting to use clever fonts, but this often does not work out well. They are hard to read, and they can dilute your branding. Example of frequently misused fonts are Times New Roman, Papyrus, and Brush Script. They are often hated and avoided by graphic designers.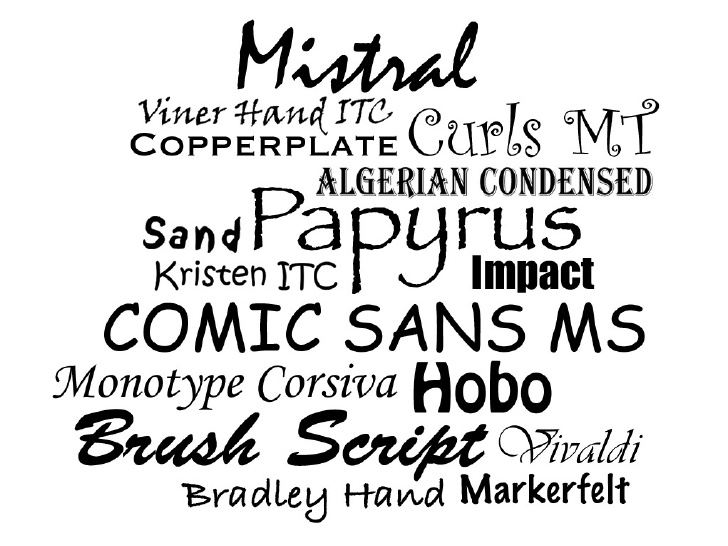 Also, in the case of text, size matters. If the text is too small to read from several feet away, the reader may notice your ad but not be able to read it. Use large text and fonts that are simple and easy to read.
Color also matters. Use colors for text that stand out from the background of your ad. If you place text over a photo, be sure to use drop shadows and outlining to help the letters stand out.
Your photo grabs attention, but your text is your message. Be sure it can be read clearly. Do tests of your own on your computer monitor, and get the opinion of a few people before you finalize your ad.
Notes on Business Information
You've got limited space on your ad, and you want text to be large and readable. How do you decide what information to include?
The answer depends on what you want the potential customer to do. Do you want them to text an SMS short code to receive an offer? Then include the short code and how to get the offer as a central piece of your advertising.
Want them to call ahead? Make your phone number the central piece of information. Want them to visit your location? Use your address or cross streets so that they can easily find you. You can even include a small map.
Where should you place this information? As a central part of your ad is the best. In a recent study it was proven that users do not look at the bottom right corner of any screen unless there is something that deliberately draws attention there. Either avoid that location, put less important information there, or have something eye-catching in that corner that viewers cannot help but see.
The point is that your ad must be structured so that the viewer has a clear way to respond: calling, visiting your website, or responding to a coupon offer. The offer tells them what action to take, but it must also tell them how.
Measuring ROI
How do you tell how your ad is performing? This can be challenging for a small business, especially if you are engaged in a number of ad campaigns. Sure, you have had an uptake of business, but where is that business coming from?
The three most effective ways to track the ROI of digital signage are with coupon codes, special links, or SMS Short Codes like those mentioned above. If you use a unique one of these for each ad and each ad campaign, you can determine which one is working best.
It is not always necessary to track ROI directly on each type of advertising you do. Customers can get weary of having to use special codes or links to get a deal. Sometimes a simple deal like the "Kids eat free on Tuesdays" mentioned above nets you more business on a typically slow night. Advertising it widely will net the best results, even though it may be hard to judge where exactly an uptake in business came from.
Still, sometimes a simple online or at-table survey asking the customer where they heard about you can help. You will not get answers from every customer, so these surveys can be less than scientific.
ROI is sometimes challenging to measure, but using some of these methods will certainly help.
Campaign Optimization
A campaign on SignSpan includes 5 ads. This means you should optimize each ad to leverage the variety of exposure that you get. There are a few different things you can do to both maximize your advertising effectiveness, determine what ads will work best going forward, and even track ROI.
The first thing is to keep each ad simple. Don't put too much information in each one. It will not only make the ad hard to read, but it will also overwhelm the viewer. Remember that an ad may be only visible for a few seconds. Will the viewer remember your brand and message? Probably not if you display too much information to comprehend in a short period of time. In each ad name your business or product and have a clear offer and call to action.
You can test different campaigns with the power of five ads. You can test two different offers, one on three of the ads, the other on two, or any combination you desire. This may help inform you what kind of offers appeal most to potential customers.
Each ad can, in fact, be its own campaign, and you can track the ROI of each if you use unique codes, links, or coupon codes.
Want to learn more about how to get started with a SignSpan campaign? Email us at info@signspan.com. Want to learn more about how digital ads can work for your business? Check out our blog here.